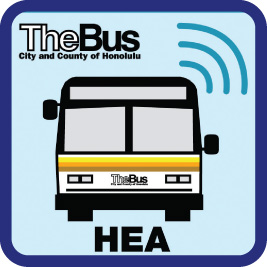 HEA
Real-Time Bus Arrival

Routes & Timetables
(808) 848-5555
5:30 a.m. - 10:00 p.m. HST
Service Disruption
May 14, 2013 07:30am - For approximately three months road repairs will commence on Maile Way at the University of Hawaii.
Route(s) 13.
For the duration of the project, 24 hours a day 7 days a week, Route 13 will be reversed and will operate in a counter-clockwise direction around the University of Hawaii from Dole St/East-West Center Rd. Board buses at stops across the street from the regular stops.
More...

Rider Alerts
temporary detours, upcoming changes, roadwork, etc...