On Monday, January 19, 2015, TheBus will be recognizing Dr. Martin Luther King Jr. Day and buses will be running on State Holiday Schedule. Due to computer issues, we were unable to post the proper schedule to Google. Therefore, if you are trip planning for 1/19/2015, the schedule shown will not be the reduced holiday service. Please call 848-5555 for assistance. We apologize for the inconvenience.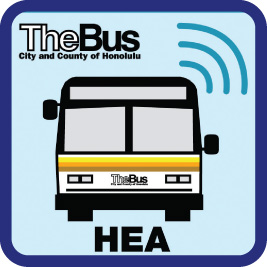 HEA
Real-Time Bus Arrival

Routes & Timetables
(808) 848-5555
5:30 a.m. - 10:00 p.m. HST
DaBus
(City Dept. of IT App)
City DIT Listing
Service Disruption
January 16, 2015 07:45am - Road Work
Route(s) 40, 42, 53, 62.
No service east at Kamehameha/Kuleana. Board buses at the portable bus stop placed 150ft west of Kuleana.
More...

Rider Alerts
temporary detours, upcoming changes, roadwork, etc...